Take a break from the hustles and bustles of city life and reinvigorate your spirits by spending time in your own private sanctuary that is at Crosswinds. Imagine yourself surrounded by the sight and scent of over 20,000 pine trees, the picturesque view of the lush terrains of Tagaytay City, and the royal feeling amidst Swiss-inspired homes, situated along the very natural slopes of this breathtaking place.
Welcome to Crosswinds where each day grants you a day to relax and unwind. Within 100-hectares of this beautiful Swiss-inspired community, lay your eyes on panoramic views while the cool air braces and refreshes your exhausted spirits. Crosswinds is a premier Swiss luxury resort – the ideal place to spend time with your family during the weekends, or even longer.
It offers a wide array of Swiss-themed homes you can choose from: Grand Quartier Condominiums, The Swiss Quadrilles, Deux Pointe Townhomes and Custom Home Sites.
Or, if you'd like to try and experience the Crosswinds lifestyle for a while, you can get the feel of the Crosswinds experience at the Crosswinds Resort Suites, where hotel accommodations are being offered. Proudly handled by Hospitality International, Inc, the Crosswinds Resort Suites is a perfect place to unwind with your family events, as well as plan vacation getaways, corporate events, and team buildings.
Imagine jewel-colored Swiss-inspired homes spread upon a bed of green velvet foliage. Imagine the cold Tagaytay breeze made fragrant by over 20,000 pine trees. A trip to Crosswinds in Tagaytay will surely be a feast to the senses, a unique experience of Swiss luxury living in magnificent dwellings amid grand vistas.
Crosswinds is a Swiss-inspired community. The name was inspired by the continuous interweaving of the winds from Tagaytay and Laguna de Bay. Crosswinds is a prime development located along Brgy. Iruhin, Central Calamba Road, Tagaytay City.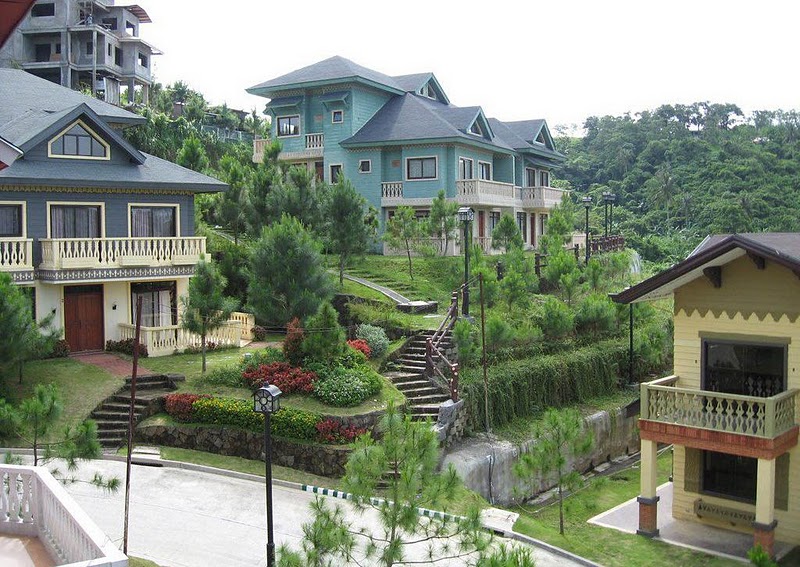 A host of premier amenities includes a swimming pool, Finds Village Store (convenience store), Christmas Store and Santa's House (filled with toys open for children to play with).Future amenities include a gym and spa, the Event Lawn (outdoor venue for weddings andspecial events), Hilltop Chapel, and the Swiss Village, a charming commercial space to befilled with quaint cafes, specialty shops and unique restaurants.
There are a number of factors which make Crosswinds a good investment opportunity: It is the only pine estate south of Metro Manila with ver 20,000 pine trees cared for and grown inside the property, it is situated in a prime location, and has a distinctive theme, concept, and architectural design, reminiscent of the Swiss chalets. It takes pride in providing only the best and world class amenities, and a high return of
investment (ROI) at 10% per annum, Crosswind also offers condotel features for its guests.
It is only less than 5 minutes away north of the popular landmark. Tagaytay Picnic Grove. It is about 7 minutes away west of the Tagaytay Rotunda where close proximity to the most popular restaurants, activity areas, hotels and casino make it a prime buy.